Surgery
In October 2008, Countryside opened a state-of-the-art equine surgery center. Complete with high-definition video arthroscopy, laser, electrocautery, advanced ligation systems, we are able to perform virtually any procedure, routine or emergency. We routinely perform laparoscopic and arthroscopic surgery, laser surgery and colic surgery.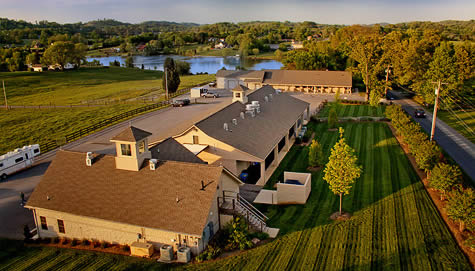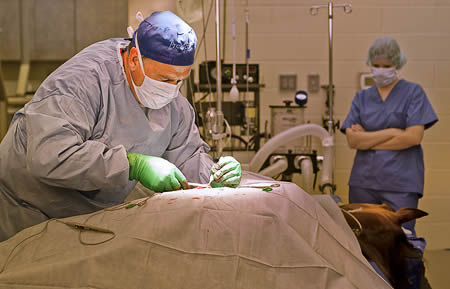 High-definition Video
Accompanying many procedures now is our utilization of hi-definition video. Used both as an aid for our veterinarians as well as our clients this technology provides greater insight into our treatments. In addition to all of our other equipment, all exam rooms are outfitted with large high-definition monitors to also aid both the clients and veterinarians.
Arthroscopy
With our Stryker high-definition video arthroscopy system, we can perform minimally invasive orthopedic procedures. With a rigid scope and camera we are able to remove bone chips, repair cartilage damage, and clean infected joints and tendon sheaths. Our arthroscopy tower also streams a live video feed to our client lounge so you can watch the surgery as it is performed in real time.
High-definition Video Laparoscopy
With our Stryker high-definition video laparoscopy system, we can perform minimally invasive alternatives to many procedures. With a rigid scope and camera we are able to perform abdominal procedures such as exploratories, ovariectomies, biopsies, and cryptorchid castrations. This alternative to tradition surgery offers more comfort for the animal and faster recovery time.
Orthopedic Surgery
We are fully equipped for many orthopedic procedures such as fracture repair with bone pins or plates and correction of angular limb deformities in foals.
Soft-tissue Surgery
We perform routine and emergency procedures such as castrations, upper airway surgeries, tumor removals, suturing lacerations, c-sections and colic surgeries.
Laser Surgery
Our diode cutting laser allows us to perform many surgeries with minimized pain, swelling and bleeding. The laser is often used for upper airway (throat) surgery and reproductive surgery in mares.
Post-surgical Care
Our post-surgical patients spend their recovery and post-op time in our ICU barn where they can be closely monitored. Our 24-hour staff is able to perform treatments, monitor vital signs, surgical sites, bandages and asses patient comfort.