Hospitalization Intensive Care
In July 2007, Countryside opened a state-of-the art hospitalization facility for our equine and large animal patients. The hospital is climate-controlled and fully equipped for maximum patient care. The hospital comprises 8 intensive-care stalls and 4 self-contained isolation stalls. In addition to the stalls, the hospital has a walk-on scale and an examination area.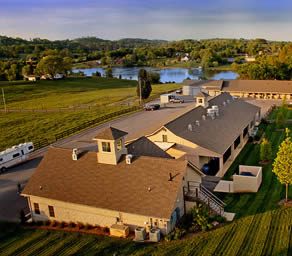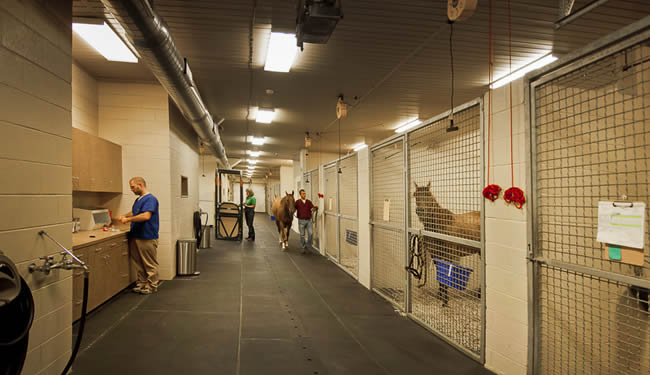 24-hour ICU
We provide 24-hour observation, monitoring and treatment for our critically ill patients. In-house diagnostic capabilities allow for timely diagnosis, treatment and monitoring or cases. We can monitor bloodwork, IV fluids, temperatures, and patient comfort as well as perform 24-hour treatments. In addition to our 24-hour staff, each intensive care stall is equipped with a fiber optic camera to allow patients to be monitored throughout the hospital as well as off-site.
Isolation
Our ICU barn includes 4 isolation stalls with separate entrances from outside the hospital. The stalls have dedicated climate control and ventilation systems to help contain potential and diagnosed contagious diseases. Each stall has a viewing window to allow safe observation of patients from the main treatment areas of the hospital. Stringent bio-security measures are in place to protect the potentially infectious patients as well other patients in the hospital.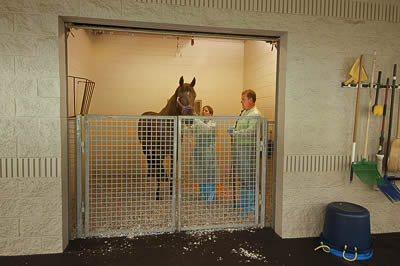 Post-Surgical Care
Our post-surgical patients spend their recovery and post-op time in our ICU barn where they can be closely monitored. Our 24-hour staff is able to perform treatments, monitor vital signs, surgical sites, bandages and asses patient comfort.
Neonatal Care
Comprehensive 24-hour care provides neonatal foals the best recovery from illness. We care for all foals including foals with failure of passive transfer, septicemia, diarrhea, ruptured bladders, dummy foals, pneumonia, and NI (neonatal isoerythrolysis). We also provide care and nutritional support for the foals of mares who have fescue toxicity.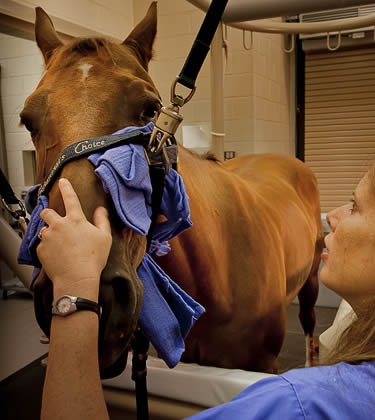 Foal Watch
Let us stay up at night to watch your mare when it's time to foal! We provide complete pre-foaling evaluations for mare with high-risk pregnancies as well as low-risk pregnancies. Foal watch allows us to keep your mare safe and comfortable in our ICU hospital during labor and delivery. Post-delivery exams allow us to mare sure the mother and new baby are healthy. IgG testing is performed in house and plasma can be quickly administered if needed. Whether your mare is high risk, or you are just not sure what to do when the time comes, let us help you make your foaling experience as safe as possible.