Medicine
Digital Ultrasound
Ultrasound examinations can be performed for cases ranging from pregnancy diagnosis to full abdominal and thoracic evaluations.
Cardiology
Echocardiograms – An echocardiogram is an ultrasound examination of the heart used to evaluate the heart muscle and valves. This valuable information is used for the diagnosis and treatment of heart disease.
ECG – An electrocardiogram is used to evaluate the electrical conduction of the heart muscle. When used with the echocardiogram, the results provide a more complete picture of cardiac function.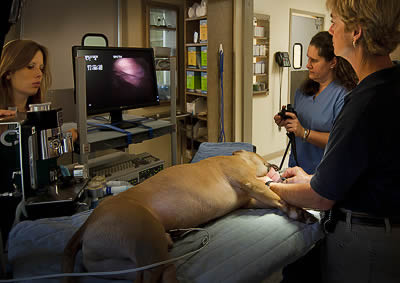 Therapeutic Laser
We are very excited to now offer laser therapy for our patients. Our class IV therapeutic laser can be used to treat many conditions such as muscle and nerve pain, post-surgical pain and debilitating arthritis. In addition, it can be used to speed healing time for soft-tissue injuries, clean and infected wounds, bone fractures, and many skin Therapeutic Laser Treatment conditions. These pain-free therapeutic laser treatments are performed on fully awake patients, and can be done in the exam room on an outpatient basis. Most patient experience results in just 2-3 treatments.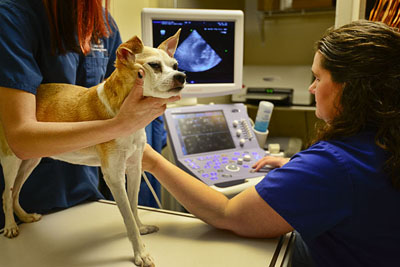 Video Endoscopy

Endoscopy is a minimally invasive diagnostic tool used to "look inside" the body. Using a rigid or a flexible tube combined with a video system, we can look in the ear, nose, throat, stomach and upper intestines, colon and bladder. Almost always performed under Video Endoscopy general anesthesia, endoscopy can be used for simple visualization, taking biopsies, obtain Endoscope monitor close-up samples for cytology and culture, and even foreign body removal! This is often a comfortable alternative to invasive surgical procedures.